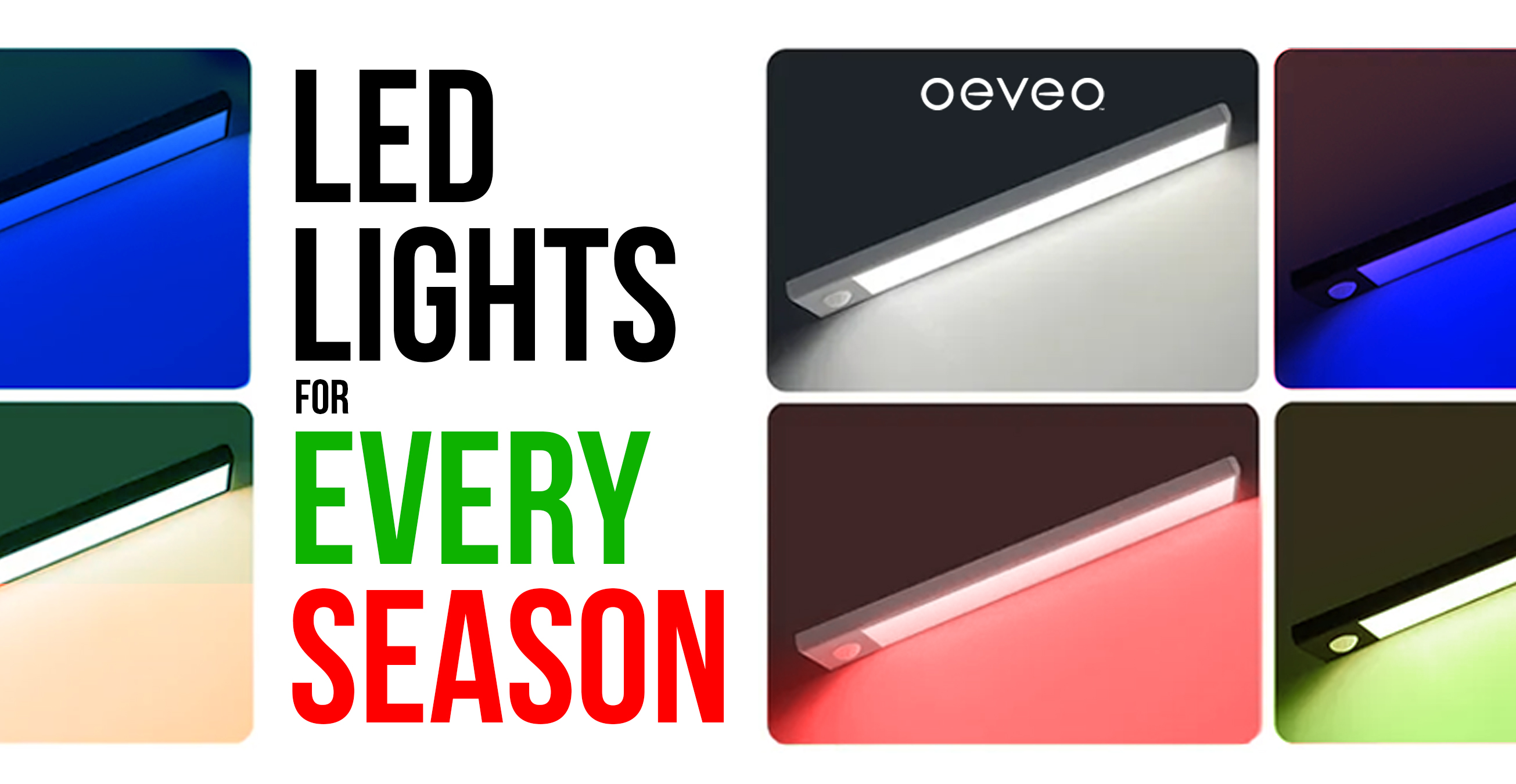 LED Lights For Every Season
Every holiday is unique and worthy of its own celebration. A fantastic way to add some holiday cheer to your home is to decorate it for the specific season. There is no reason for a full renovation to achieve this idea. Just by adding a touch of color or themed decor, you can transform your home into a holiday retreat. A simple way to take your holiday decor to the next level is themed lighting using LED Light Bars. With a simple press of a button, you can set your light to any festive color that will set the mood for celebrating.
Christmas
We look forward to cozy nights and Christmas lights. Most people associate Christmas with the colors red and green. Position the Eco-Lucent Magnetic Rechargeable LED Light behind your Christmas tree with the red or green setting on to add a glow around your tree. You can utilize the white light to frame and highlight your cherished ornaments. To elevate your Christmas movie nights, consider adding the light to the back of your TV to set a festive, cozy Christmas mood.
New Years
Ringing in the New Year is linked to many different colors. You may think of shimmering gold like fireworks or light blue for a celebration. Whichever you prefer, place the light where the people will be to create a festive atmosphere for that midnight toast.
St. Patrick's Day
Lucky you, the Eco-Lucent Magnetic Rechargeable LED Light has two amazing green hues to choose from for St. Patrick's Day. Place this light on the bottom of your kitchen cupboards or in your living room to channel your inner Irishman.
Valentine's Day
Roses are red, violets are blue, LED lights are fantastic, and you are too. Personally, I do not relate blue to Valentine's Day. However, I can't help but see pink and red everywhere. For a party, place the light under the snack table to accentuate all the delicious food, or arrange the lights in soft red as a backdrop for a romantic evening.
Easter
Easter is filled with pastels in a range of colors. Spring is in full bloom, and everyone desires to add color to their interior design. For a cheerful house accent, select the fade option to shuffle among all the available light hues at once. If that's too excessive, your gorgeous Easter eggs will be complemented by the yellow, green, blue, purple, or pink light.
4th of July
Light up the sky this Fourth of July with the Eco-Lucent Magnetic Rechargeable LED Light. Select either blue, white, or red for your Independence Day celebration. Use the Eco-Lucent Light under or around the cookout table to show off to your neighbors the amazing burgers you made.
Halloween
Spooky season is all things black, orange, and purple. The Eco-Lucent Light will really set the mood at your front door to greet all the trick-or-treaters or behind your TV while you watch your favorite scary movies. In honor of Halloween, cozy up this fall with the color orange or purple.
Further Benefits

While you're setting the mood with colored lighting, why not relieve the eye strain we all have had? Adding extra light to your home while working on tasks you enjoy or find challenging will improve your vision and overall health. LED lights are much brighter than the typical light bulb, making them the optimal choice to recover from eye strain. If you have multiple lights, you can use one remote to control all of them for easy operation. Using the magnetic or adhesive backing, you can install the Eco-Lucent Magnetic Rechargeable LED Light anywhere to light up your life.
Posted on
11/07/2023
by
135
Leave a Comment
Leave a Reply
Please
login
to post a comment.