Is it Safe to Mount a Gaming Console to the Wall?
Almost a year after the release of the next generation of video game consoles, gamers are still having a hard time getting their hands on them. With the amount of time, energy, and of course - money - that is put into acquiring these consoles, it's completely understandable that you may be skeptical about attaching it to the wall.
Despite the fact that TV wall mounts are quite commonplace, the same confidence hasn't been instilled in the general public that mounting gaming consoles is also safe.
When gamers see our wall mounted consoles for the very first time, we often hear concerns like these:
"I have severe OCD and don't want to risk it"
"Personally, I wouldn't mount my console. I'd be too paranoid that it will fall off."
"After experiences with wall mounting guitars, I absolutely would not wall mount anything expensive ever again."
We hear you, and these certainly are valid concerns.
To help dispel some of the common misconceptions about wall-mounting, let's jump into some of the most common questions we get about the topic.
Is wall mounting a gaming console safe?
With a heavy-duty mounting bracket and proper installation steps, mounting a gaming console to the wall is 100% safe. We recommend the use of steel mounting brackets, and mounting into a stud whenever possible. Wall-mounting a gaming console into just the drywall using anchors can also be done. However, we highly recommend mounting directly into a stud whenever possible, which provides the maximum possible carrying capacity.
Can you wall mount an Xbox?
Virtually any model of Xbox console can be wall-mounted. We offer mounts designed specifically for the Xbox Series X, Xbox Series S, and the Xbox One. For older Xbox consoles, check out universal mounts which you can adjust to the exact dimensions of your console.
Can you mount the PS5 on the wall?
Although the PlayStation 5 is quite large, it can be wall-mounted. Our PS5 wall mount bracket is made of medium-gauge steel and has arms to wrap around the sides for extra security. Since the PS5 is one of the heavier gaming consoles ever made, we recommend installing your PS5 wall mount into a stud.
How do I hide my PS5 or Xbox?
You can hide your PS5 or Xbox by wall-mounting it behind a wall-mounted TV. Hiding the console behind your TV allows for easy cable management solutions, and creates the cleanest, most minimal aesthetic.
Is it OK to put a PS5 behind the TV?
Mounting a PS5 behind a TV is okay as long as there is enough space for proper ventilation. If possible, use a TV mount that is adjustable and gives your PS5 at least a few inches of space in each direction to allow for maximum airflow.
Can I mount my PlayStation or Xbox Under a Desk?
All consoles can be mounted under a desk as long as the desk material is .25" thick or greater, and the console functions properly in a horizontal position. Refer to the following table to determine which under desk mount would best fit your console:
Mount Your Gaming Console with Confidence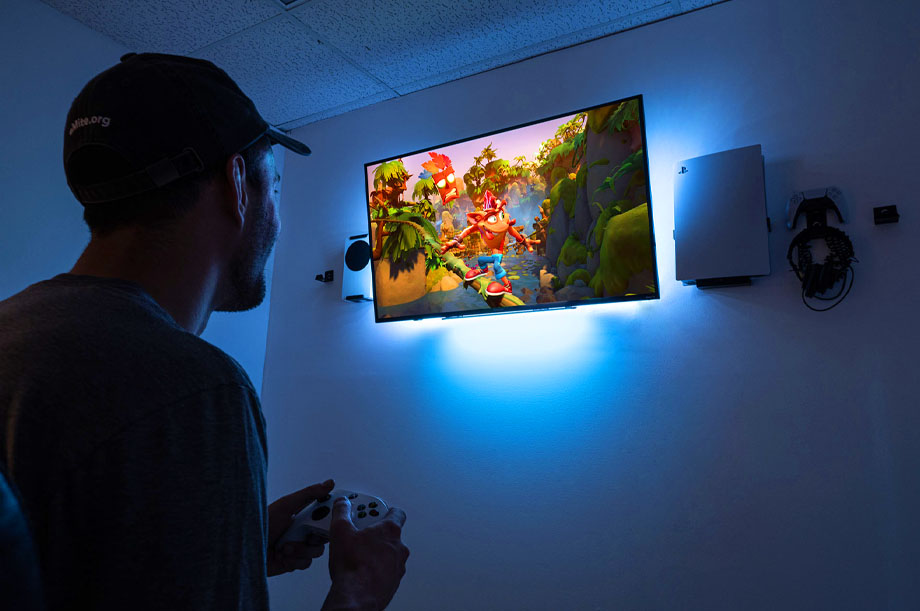 While mounting general creates a cleaner setup and keeps your electronics away from spills, drops, pets, and children, we understand the nerve-racking nature of attaching your console to the wall.
Anytime you're mounting a console, a computer, or any other expensive electronics, the most important part of your decision should be the quality of the mounting bracket.
We manufacture all of our mounts in the United States to ISO-certified standards. The steel construction and powder coat finish means your console will be safe and secure as long as proper installation steps are followed.
Questions about our mounts, or proper installation techniques? Our customer service team is standing by via email, live chat and over the phone.
Mount up!
Posted on
08/18/2021
by
11852
Leave a Comment
Leave a Reply
Please
login
to post a comment.