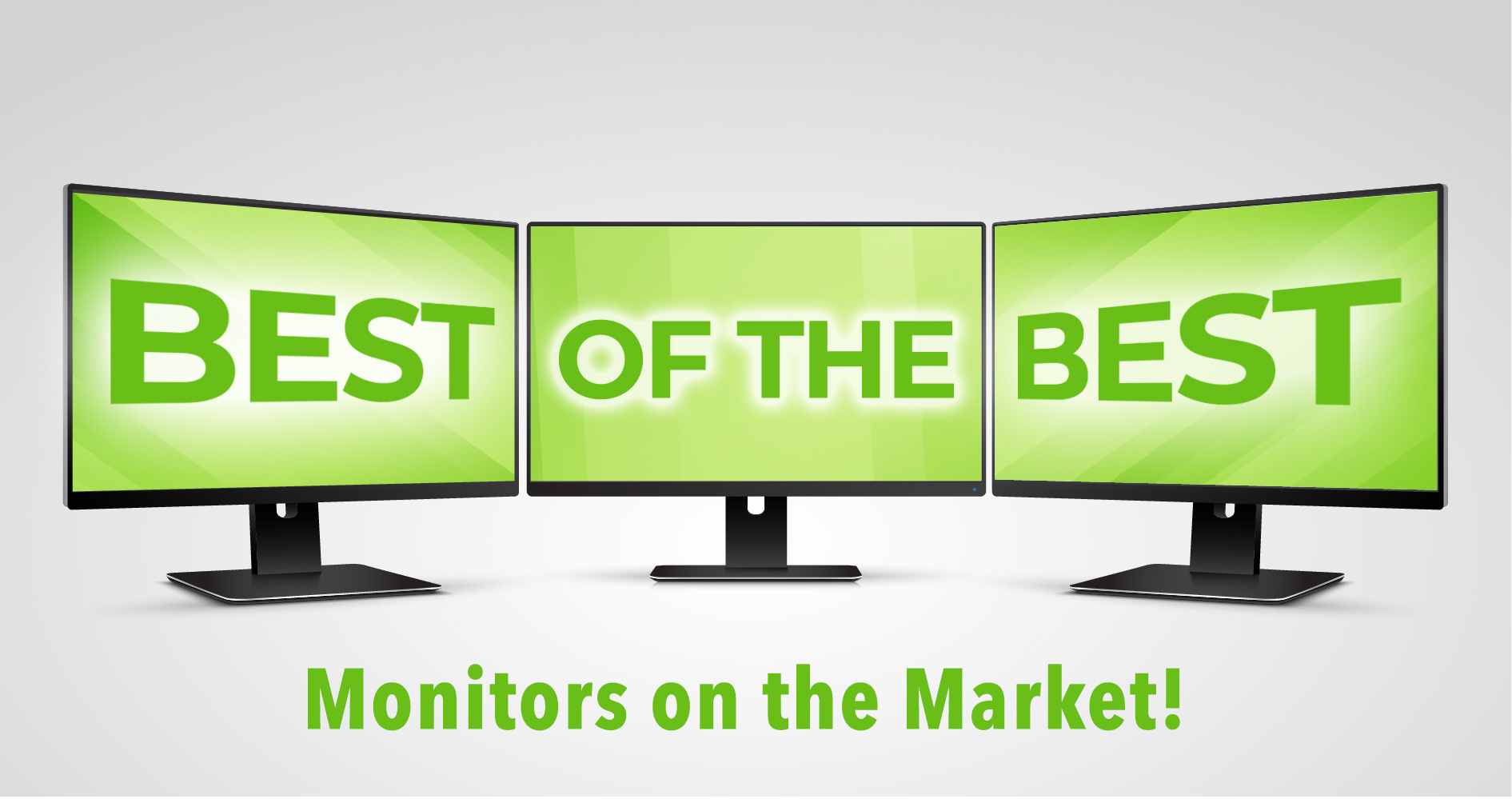 The Best Monitors on the Market in 2021 (Reviews/Ratings)
This year decide to work SMARTER!
The 9 - 5 weekday grind with a disappointing display is over. Whether you're still working in your essential office or if you've relocated to a permanent WFH setup, getting a better monitor can be transformative. At this point in your career, you already know a computer monitor is one of the most important productivity investments, as you'll be using it on a daily basis. But figuring out which screen to purchase can be stressful with seemingly endless options to choose from.
To help you find the right ergonomic fit, we've collected the optimum 2021 options in computer monitors (5 separate categories!) -- from 4K resolution to bargain buys for no-frills dependability -- read on for our best picks.
Best 4K Resolution Monitor: ASUS ROG Swift
First up on Oeveo's 2021 list, this 32" monitor offers NVIDIA G-Sync compatibility, 160% sRGB color gamut coverage for crisp, vivid images and display HDR 600 support. Next-gen ready? You bet! Say hello to a high refresh rate, excellent contrast, plus vibrant and accurate color panel.
Best Budget Buy: Dell 24 Monitor: SE2419H
This 24", budget computer monitor has fantastic color accuracy, an HD display, and a screen that's crisp and sharp (1920 x 1080 Resolution). Dell's ComfortView feature minimizes blue light to protect your eyes from strain. With its relatively small size, great price, & supreme color accuracy - it's a great choice for a home office or traditional workspaces.
Best Ultrawide Monitor: Acer XR342CK Pbmiiqphuzx
Are you one of those people who constantly switch between multiple browser tabs and windows? You might benefit from an 34" ultra-wide computer screen. You can have your important web pages and documents in front of you at all times and easily switch between them. Yes You Ms. Multitasker! Its two HDMI ports and DisplayPort offer plenty of ways to connect devices, and the four-port USB hub lets you easily keep cable clutter to a minimum.
Best Curved Monitor: AOC 23.6" LED Curved Monitor
James Lynch of Strategist recently wrote about how this monitor has changed his work-from-home life in "My WFH Computer Monitor Is Also the Perfect Quarantine TV". Say no more Mr. Lynch, we know a Win WIN when we see one! Check out the dynamic and impressive Curved LED monitor design, full HD resolution, and 1 ms response time for a high-quality viewing experience.
Best Monitor for Dual Setup: BenQ 24-inch IPS Monitor
This monitor's slim bezel design also includes eye care settings that will come in handy if you're looking at several screens all day. Low blue light, zero-flicker technology, and brightness intelligence technology will decrease strain on the eyes. Computer monitor-induced eye strain can cause headaches, blurred vision, and disruptive sleep patterns. It's helpful to use a monitor that's easy on your eyes and the BenQ 24-inch IPS Monitor delivers.
With countless 5-star reviews, high-functioning features, and mid-range pricing, you can't go wrong with buying any of these computer monitors for your office environment. A quality monitor can impact not just your productivity and the quality of your work, but also your health, sleep, and energy levels.
At Oeveo, we are raising support standard levels in 2021! Our entire line of home workstation, traditional office, & gaming setups products are designed with innovation & ergonomics top of mind! We carry a range of monitor mounting solutions to help you optimize your workspace.
Our newest product launches, the Fixed VESA Monitor Wall Mount and the Tilt VESA Monitor Wall Mount will help you create the ideal monitor setup within the ultimate workspace to help you get down to business. Take advantage of Oeveo's in-house design services, exclusively Made in the U.S.A. products, and FREE ground shipping on all orders in the contiguous United States.
Posted on
03/23/2021
by
3270
Leave a Comment
Leave a Reply
Please
login
to post a comment.