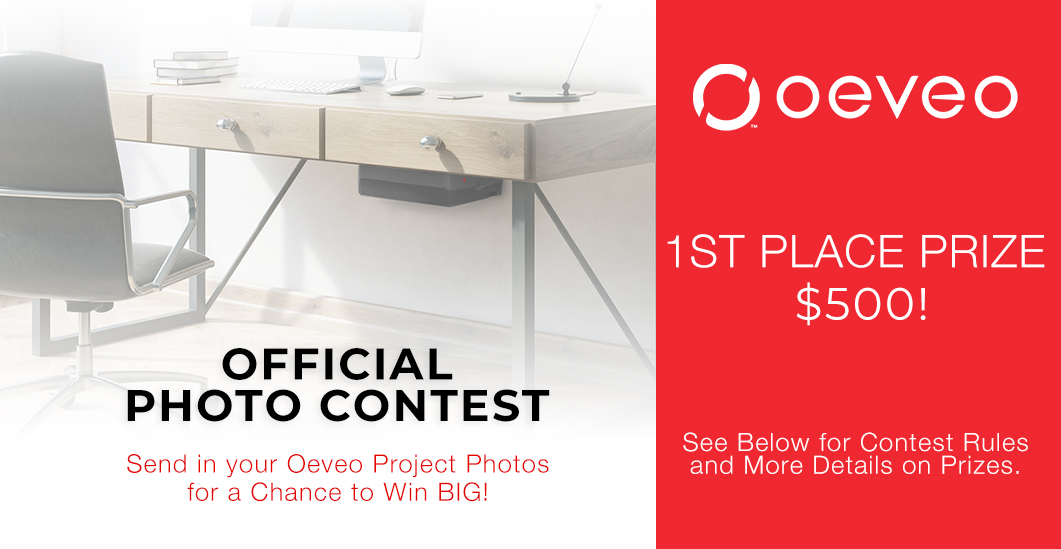 First Prize: $500
Second Prize: Your Oeveo Order Reimbursed, up to $250
Third Prize: $50 Visa Gift Card
---
Official Contest Rules
Contest rules are subject to change. Refer to this official contest page for the most up-to-date information or contact Oeveo with any questions.
Who May Enter
Anyone age 18 and over. Employees of Short Run Pro, subsidiaries, affiliates, advertising and promotion agencies and the immediate family members of each are not eligible. No purchase is necessary.
What To Enter
Photos of projects using our Oeveo products! We're looking for photos that show our products being used in interesting designs and in your beautiful settings. NOTE: Installations must meet the International Builders Code to be considered for the contest and our photo gallery.
Cropped photographs are eligible, but those that have been digitally or otherwise enhanced or altered are not. The products shown in the photos must be of Oeveo.
When To Enter
Submissions will be accepted from July 1st, 2022 through December 31st, 2022,, and winners will be announced the first week of January 2023.
How To Enter
Please submit photographs via email or mail. Give the subject heading "Oeveo Photo Contest" to ensure we receive your entries. Please include your order number (SO_), your name, email, and photos. Feel free to include additional details about the project!
Email Submissions
Be sure to shoot the original photographs in the highest resolution possible. Submitted photos must be a .jpeg or .tif format, 5" x 7" (or larger), at 300 ppi resolution. Low resolution or smaller photos will not be eligible for top prizes. Files must be sized for emailing, we can provide additional options for larger than 5 Mb sizes. All prize winners will be asked to submit a copy of the original high-resolution file.
To submit, please email us at: photos@shortrunpro.com and provide your name, address and phone number, photo location (city and state), the Oeveo Product used, type of project, description of project, and don't forget to attach 2 photos! Each photo entry must contain the above information for consideration. Multiple photos are encouraged to give our staff additional choices.
Mail Submissions
Send via U.S. Mail 2 unmounted, quality color prints that are at least 5"x 7" in size to the following address:
Photo Contest
Oeveo
710 Catawba St.
Suite A
Belmont, NC 28012
Affix pertinent contact & descriptive information (see above - Digital Submissions for list) to each color print. Prints without attached information will be disqualified.
By sending your submission and entering the Contest, you certify that you have read all of the Official Contest Rules and accept and agree to be bound by these rules and the decisions of Oeveo/Short Run Pro, which shall be final, binding, and conclusive on all matters. All entries and photographs become the exclusive property of Oeveo/Short Run Pro and will not be returned or acknowledged.
Oeveo/Short Run Pro will not be responsible for lost, delayed, damaged, misdirected or illegible submissions or any computer, telephone, cable, network, electronic or Internet hardware or software malfunctions, failures or unavailability. The contest is void where prohibited, taxed or otherwise restricted by law.
Prizes
First Prize: $500
Second Prize: Your Oeveo Order Reimbursed*
Third Prize: $50 Visa Gift Card
*Oeveo will reimburse the 2nd prize winner their order amount from what can be seen in the contestant provided photos (up to $250).
Judging
Judging will be conducted by a panel of Oeveo/Short Run Pro employees who will reserve the right to evaluate entries in a completely subjective manner while quaffing a few cold ones. However, no bribes of any kind will be allowed or accepted. The judging panel's decision is final.
Winners
The three prize winners for each contest will be notified by e-mail or U.S. Mail within 30 days of the judging of each contest. Please allow 8 to 10 weeks after Contest has ended for prizes to be delivered. Winners will be posted on the appropriate Oeveo web site within 60 days of the end of the contest and certain non-winning photos may also be posted. Prize winners will be required to execute an Affidavit of Eligibility/Originality and Publicity/Liability Release. All required documentation must be returned within 14 days from the date appearing on the letter of notification or the prize will be forfeited. Winners will also be responsible for paying any taxes they may owe on a prize. Prizes are non-transferable. In the event of non-compliance with these requirements, the prize will be forfeited and the entry with the next highest score will be declared the winner. Oeveo/Short Run Pro reserves the right to disqualify entrants and/or cancel or suspend the Contest should unauthorized intervention or other causes corrupt the administration, security, fairness, integrity or proper operation of the Contest.
Rights to Photograph
An entrant must hold all rights to a photograph. Submission of an entry grants Oeveo and its affiliated companies the unrestricted right to modify, edit, adapt, alter, publish and/or use the submitted photograph in any way, at any time and in any and all media in connection with the advertising or promotion of Oeveo's products or services, without consideration or payment to the entrant or to any other third party. At its discretion, Oeveo also reserves the right to include the name of the entrant as well as the city and state in which the photo was taken in any and all such above described advertising and promotional activities. The entrant represents that any person depicted in the photograph (or, if a minor, the minor's parent or guardian) consents to Oeveo's use of the photograph in accordance with these Official Rules. The entrant is solely responsible for obtaining necessary authorizations (e.g. model release forms, etc) from all persons, the parents or legal guardians of minors, and the owners of all private property and trademarks appearing in the photograph to take the photograph and to grant Oeveo the rights herein granted. Entrant further represents that the photo does not infringe or violate any third-party rights.
Release of Liability
All entrants release Oeveo and each of Short Run Pro's affiliates, subsidiaries, officers, directors, agents and employees and all others associated with the development and execution of this Contest, from any and all liability with respect to, or in any way arising from, this Contest, and/or use of the prizes, including liability for personal injury. Oeveo is not responsible for printing, production, or typographical errors or omissions, or other similar errors or omissions.
By sending your submission and entering the Contest, you certify that you have read all of the Official Contest Rules and accept and agree to be bound by these rules and the decisions of Oeveo, which shall be final, binding, and conclusive on all matters. All entries and photographs become the exclusive property of Oeveo and will not be returned or acknowledged.